Jason Hammel Injured - Can The Os Still Win? YES! 9/11 Orioles Win 9-2
Written by Michael Williams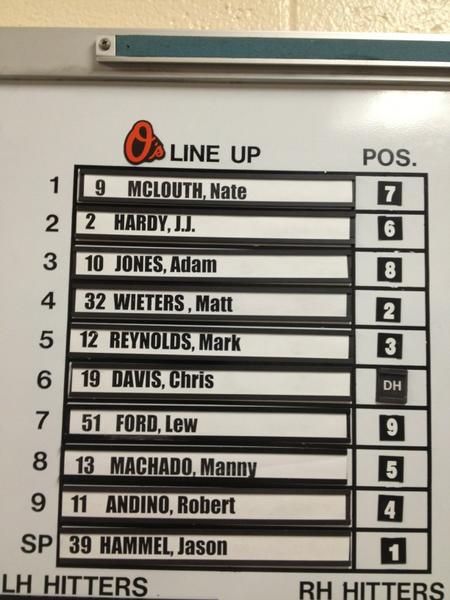 RAYS LINEUP

B.J. Upton CF
Jeff Keppinger 3B
Ben Zobrist SS
Evan Longoria DH
Matt Joyce RF
Ben Francisco LF
Luke Scott 1B
Ryan Roberts 2b
Jose Molina C

Matt Moore LHP
Adam Jones scores on a Wieters single and an error.
Ryan Roberts hits a solo homer.
J.J. Hardy hits a two run Homer.
Hammel leave the game after three and two thirds with a right knee injury.
Matt Wieters drives in two with a double.
Steve Johnson pitches an inning and a third scoreless. Ayala pitches a scoreless sixth.
Orioles 5 Rays 1
McLouth singled and stole second with two down. J.J. Hardy singled him in.
Orioles 6 Rays 1
Brian Matusz forgot that he was a poor starter. Because he is a beast of a reliever.
The Sheriff did not homer tonight. So the Deputy picked up the slack.
Orioles 7 Rays 1
Elliott Johnson homerd off of Darren O'Day.
Orioles 7 Rays 2
J.J. Hardy needed a triple with one one and two out in the bottom of the eighth. He homered.
Orioles 9 Rays 2
Strop pitched a nice ninth A Francisco double was stranded.
Orioles win 9-2
Comments/Questions?
Visit the Orioles Hangout Message Board